Saturday, October 15, 8:00pm
Nevada Theatre, Nevada City, CA
$35 premium reserved seating
$25 general admission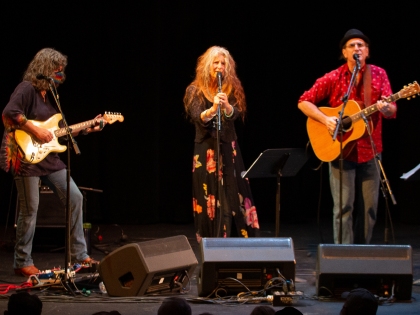 Modern folk musicians Paul Kamm and Eleanore MacDonald, from Nevada City, CA., have been writing and performing original, contemporary folk music for over three decades. A blend of contemporary and traditional styles, their music is graced by exquisite harmony, compelling songwriting, deceptively simple arrangements and intricate guitar work… all embraced by great heart. They've been applauded throughout the US as well as overseas for the lyrical content of their songs and vocal blend…a haunting style which weaves unique harmonies into a rich tapestry of guitar work and storytelling.
They are Kerrville, Telluride and Rocky Mountain New Folk award winners, to name just a few, but the real nature of their musical voice doesn't come into focus as easily as reciting a list of these coveted prizes.
The quiet way they live and work flows through their music like water, and washes over you as surely as the notes do. You get the impression that working for issues like peace and justice shouldn't keep us from dropping everything to help a stray animal in need, and that ambition is nothing without love, because one thing follows another, one hand connected to the other.
In an uncompromising yet comforting way their music is patient, like talking with someone who looks you in the eye, someone who reminds you to breathe, because these things might take a little time. Their songs are filled with stories that touch us all, and whether it's love or politics, war and peace, old farmers, old women or the earth and our children, this music brings to life both history and today with a powerful mix of inclusion and compassion.
At home in large venues like the Strawberry, Kerrville or Kate Wolf music festivals, a late night 'in the round' tribute to Woody Guthrie with folks they greatly admire like Jackson Browne, Eliza Gilkyson, Steve Earle and Jimmy Lafave, or in the small intimate setting of a living room house concert, Paul and Eleanore sing with the same voice. One that is personal and unguarded… a voice draped in stark and ethereal harmonies that are as welcoming as the crackling warmth of a fire.
After carving a career out of what some might call the shadows, guitarist Nina Gerber is at last beginning to dare the light. Her first album as a leader, Not Before Noon, follows two decades which brought her to prominence without ever placing her name on the front of an album cover. Since her accompaniment of Kate Wolf first earned her recognition, her acute skills as performer, producer and arranger have continued to deepen. Her contributions to acoustic music have earned her a following as loyal as for the numerous high talents she has accompanied – proving the shadows equal to the spotlight in the creation of honest, powerful, and beautiful music.