George Winston, A Benefit for the Bridge Street Project
THIS SHOW IS SOLD-OUT!  THANK YOU!
Tuesday October 14, 7:30PM, Adult $30, VIP $50
(VIP ticket holders receive reserved seating and a reception in the new KVMR Community Room/Performance Studio, including champagne and H'douvers–6:00-7:15 p.m.)
Nevada Theatre, 401 Broad Street, Nevada City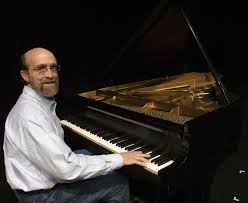 This performance by George Winston will be a benefit for the Bridge Street Project which will build KVMR Radio a new home and create a new backstage area for the Nevada Theatre
Self-described "rural folk piano" player George Winston was among the earliest and most successful proponents of the genre of contemporary instrumental music later dubbed new age. Although born in Michigan in 1949, he was raised primarily in Montana, the extreme seasonal changes he experienced there later greatly influencing the pastoral feel of his music. Even as a child, Winston preferred instrumental music over vocal performances, counting among his early heroes Booker T. & the MG's, Floyd Cramer, and the Ventures; he did not take up music until after high school, however, beginning with organ and electric piano but moving to acoustic piano by 1971. Influenced by the stride piano of Fats Waller and Teddy Wilson, Winstonturned from rock and R&B to jazz, and soon released his first solo piano effort, Ballads and Blues 1972, after which he mysteriously retired from music for the next several years.
Discovering the music of the legendary New Orleans R&B pianist Professor Longhair in 1979 was the epiphany Winston was seeking to inspire a return to performing; signing to the Windham Hill label, between 1980 and 1982 he recorded a trilogy of albums — Autumn, December, and Winter Into Spring — of impressionistic, seasonally themed piano musings which laid much of the groundwork for the new age boom to follow. Winston's music continued to grow in popularity and influence in the years to follow, but in typically enigmatic fashion, he virtually dropped from sight for the remainder of the '80s, resurfacing only in 1986 to score a reading of The Velveteen Rabbit by actress Meryl Streep.
Finally, in 1991, Winston returned to action, completing his seasonal cycle with Summer; Forest followed three years later. In 1996, he paid tribute to another of his greatest influences with Linus & Lucy: The Music of Vince Guaraldi. A compilation album, All the Seasons of George Winston, was released in the spring of 1998, followed a year later byPlains. The new millennium brought anniversary editions of several of his landmark albums, including Autumn,December, and Winter Into Spring, as well as the 2001 album Remembrance: A Memorial Benefit, which was Winston's response to the tragic events of September 11, 2001. His 2002 release, Night Divides the Day, focused on the music of one of his earliest influences,the Doors. Montana: A Love Story from 2004 was inspired by Winston's childhood in Montana. An impressive solo piano outing, Gulf Coast Blues & Impressions, released as a benefit set for hurricane relief, appeared from RCA in 2006. Winston continued to perform solo, but didn't cut another record until Love Will Come: The Music of Vince Guaraldi, Vol. 2 appeared in 2010. Winston toured in support of the album, playing solo piano concerts as well as performing on slack key guitar and harmonica. In the aftermath of the Deepwater Horizon's explosion and its resultant, massive oil spill and environmental disaster in 2010, Winston monitored the situation closely and became deeply concerned about the loss of the wetlands in Southern Louisiana. In response, he issued another benefit recording, entitled Gulf Coast Blues & Impressions, Vol. 2: A Louisiana Wetlands Benefit, in March 2012 in order to help with funding bluesman Tab Benoit's The Voice of the Wetlands organization and other environmental concerns resulting from the crisis.