Paul Emery Presents
in cooperation with the Sierra Jazz Society
Nevada Theatre, Nevada City, CA
Friday, November 5, 8pm
$30 premium reserved seating
$20 general admission


---
We are abiding by Nevada County Public Health requirements for all shows.
Masks are required at all times. Proof of vaccination or negative COVID test taken within 48 hours of the event is required for entry.
---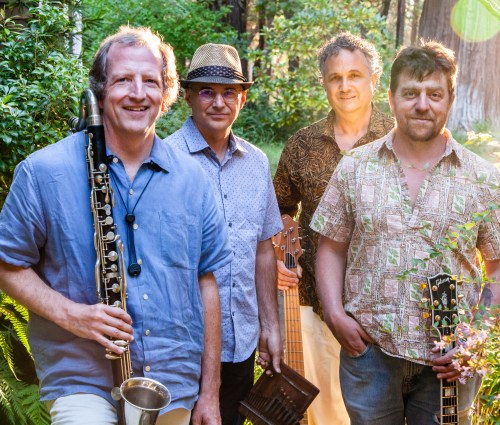 Tumble
The African-influenced jazz group Tumble is a band in constant motion, much like the music they play—percussive, trance-inducing, their collective groove always evolving. In the year it took the band to record their first album, Music for Trio, and then play the CD release concert, the original three-piece ensemble had morphed into a quartet.
Tumble will be featuring the music from Waves, recorded with local bass legend Bill Douglass, who was a member of the band from 2015 to 2018.   They'll also be showcasing their new bass player, Rob Holland, whose experience as both a bassist and percussionist brings to the group a vast knowledge of Latin American and African musical traditions. Tumble began in 2014 as the trio of Robert Heirendt on mbira (the kalimba-like instrument sometimes known as the thumb piano), Sean Kerrigan on guitar, and Randy McKean on clarinets and tenor saxophone.
Waves brings together many talents. Recorded by Bruce Wheelock at Flying Whale Studios in Grass Valley.  The music includes propulsive, multi-layered originals by Kerrigan, freer experimental compositions by McKean and Heirendt, and innovative arrangements by the group of classic tunes by Thelonious Monk and Wayne Shorter.  It is the first release on Cure-All Records, a new label created by McKean and former Nevada City resident David Dvorin.
---
Flounder
"Innovative compositions, unusual instrumentation, impeccable musicianship and interplay between the four performers – all this adds up to make Flounder one of the most interesting and enjoyable jazz bands you'll ever hear." – North State Public Radio
"David Dvorin creates pure musical alchemy with his band Flounder, combining inspired writing with unique instrumental voicing and brilliant musicianship." – KZFR
Combining the freewheeling groove and grit of mid-century blues and jazz with the intimacy and instrumental interplay of chamber music, Flounder was originally formed in 2018 to perform a concert of original works by composer David Dvorin at California State University, Chico, where Dvorin is a Professor of Music. The collaboration proved so successful that the four musicians decided to keep the project going, performing and recording Dvorin's original compositions and unique arrangements that emphasize rhythmic feel along with the more adventurous exploration of harmony and texture.
Consisting of Dvorin on electric guitar and modular synthesizer, Randy McKean on bass clarinet and tenor saxophone, Clifford Childers on bass trumpet, trombone, harmonica and euphonium, and Tim Bulkley on drums, the quartet combines the retro and the futuristic with traditional acoustic and electric instruments sharing sonic space with the percolating electronic sounds of the modular synthesizer. Sounding like a much bigger band due to the players' doubling on multiple instruments, the quartet exhibits the swing, swagger, and drive of the best Space-Age Jazz, but distinguishes themselves from your average combo by allowing the low end to be occupied by any member of the group.
Combining tight arrangements with creative improvisation, Flounder thrives in a live setting, performing regionally throughout Northern California, including concerts at universities and music schools such as the California Jazz Conservatory's "Way Out West" series. Their debut release, I'm The Flounder, was release this fall 2021.