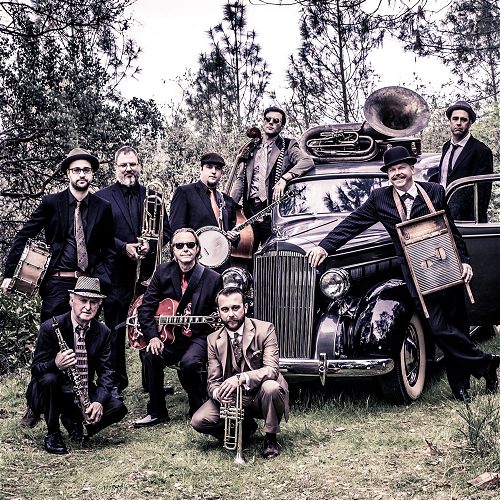 with special guests the Bob Woods Trio
Paul Emery & the Miners Foundry present
Sunday, December 31


Doors open at 8:00 pm
Show begins at 9:00 pm
$30 general admission
$40 reserved seating: includes a reserved cabaret table and a complimentary glass of champagne
Tickets are available online, by phone or in person at the Miners Foundry Box Office, or in person at BriarPatch Food Co-Op.  Ticketing fees do not apply for purchases made through the Miners Foundry Box Office by phone or in person.
Call 530-265-5040
Earles of Newtown is a powerhouse Americana band crafting their tight arrangements of infectious original music around early era Harlem, New Orleans and "Hot" Jazz, along with Texas and Western Swing, creating a sound all its own called simply: "Swingin' Dixie."
The nine piece band has been shaking dance floors all over California, including recent gigs in San Francisco. The Earles are injecting energy into the swing scene in the Sacramento, Sonoma, and Petaluma areas, playing along with other excellent North Bay groups such as The Crux and Royal Jelly Jive. Earles of Newtown received the "Best Live Band of 2014 Award" from the Nevada City Chamber of Commerce in Northern California.
Notable performances include opening for Dr. John and Allen Toussaint as well as March Fourth Marching Band. Recently mentioned in the Sacramento Bee, "Three to See," as "one of the gems of the gold country music scene, jazz collective Earles of Newtown peddles perfectly junky juke joint jazz – the kind you'd find in hidden back alley clubs in New Orleans that still require a password and sling a mean mint julep."
---
Bob Woods Trio
Bob Woods started playing in 1971 with the Sacramento Western Swing band, Tokpela.  A Western Swing Hall of Fame Inductee, he's shared the stage with the Surfaris, Tiny Moore, Bill Kirchen, Albert Lee, Ramblin' Jack Elliot, Billy Joe Shaver, and many others.  You never know who might share the stage with Bob Woods!
Woods has released seven original albums:  Hillbilly Cadillac, The Night We Stole the Last Steam  Engine, Don't Forget the Trains, Almost Live, Railroad Money, This Town, and Swampbilly.