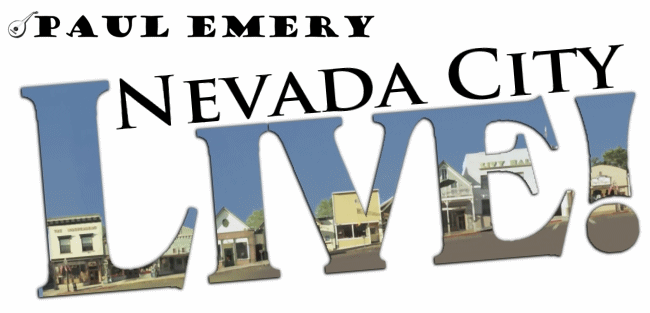 Thursday, October 13, 2022, 7:00pm
Nevada Theatre, Nevada City, California
$30 premium reserved seating
$20 general admission


Sands Hall and Doc Dachtler share an evening of music, potery and stories at the historic Nevada Theatre.
---
Sands Hall's music falls squarely in the Americana tradition, lacing elements of her folk roots with country, blues, and jazz. She's also a prize-winning author and teacher, as well as an accomplished theatre artist.  She'll be accompanied by percussionist Kit Bailey, and is delighted to be sharing an evening of poetry and song with the inimitable Doc Dachtler.
---
"Sands is a troubadour of the highest caliber and in the best sense of the tradition… her lyrics create a rarely-achieved visual context, with well-crafted melodies that are facilitated by skilled and creative guitar work." – BanjoBones.com
"Isn't it lovely when an album comes from nowhere and you just end up falling in love with the songs? Sands Hall's music has a deep roots-based vibe, Americana crossed with folk and blues… Rustler's Moon is endearing and earthy and also passionate and uplifting, a gentle gliding record full of diversity… a delight, with every song telling a story." – NTLWORLD.com
"Rustler's Moon is a supremely crafted album."  –  Get Ready to Rock Me.com
---
https://sandshall.com/
When Sands was fourteen, her father purchased for her, from a hard-up U.C. Berkeley grad student, a Martin 000-18, on which she wrote her first song. Fifty-odd years later, the Martin is usually onstage with her; and she is also found playing the gorgeous guitar built for her by luthier Luke Wilson. A teacher of creative writing, and author of a novel, a memoir, short stories, plays, poems, and essays, Sands brings this delight in language to her lyrics. Her extensive work as a theatre artist—she's an actor, director, and playwright—gives her a stylish yet deeply honest performing presence.
In addition to songs, Sands's writing includes a memoir, Reclaiming My Decade Lost in Scientology (Counterpoint; finalist, Northern California Book Awards); a novel, Catching Heaven (Ballantine; a Penguin/Random House Reader's Circle Selection and a Willa Award Finalist); and a book of writing essays and exercises, Tools of the Writer's Craft. Her plays include an adaptation of Louisa May Alcott's Little Women, and the comic/drama Fair Use, which explores the "is it plagiarism?" controversy surrounding Wallace Stegner's novel, Angle of Repose, and also the topic of a recent essay by Sands in Alta Journal. 
Her directing credits run the gamut from Shakespeare to Giradoux to a production of The Fantasticks (Colorado Shakespeare Festival); most recently, this past spring, she directed the play, Tiny Beautiful Things by Cheryl Strayed for Sierra Stages, and just returned from directing a staged reading of her play, Fair Use, as a fundraiser for Foote Park in Boise, Idaho.
Professor Emerita, English and Creative Writing, at Franklin & Marshall College in Lancaster, PA, Sands is co-director of the nonfiction/memoir program for the Community of Writers, and teaches for that conference, the Iowa Summer Writing Festival and Gold Rush Writers, among others, as well as her own popular online workshops.
---
"There's something gleefully sly in Doc Dachtler's lines. Knowing, at times rueful, Western yet engaged with the rest of the world; well-traveled. Wry, rebellious, hilarious, benevolent. You will think you've heard this voice before… Will Rogers, Mark Twain. You haven't." – Molly Fisk
"Dachtler's poetry is raw and snappy as a northern wind, filled with spicy imagery and plenty of tongue-in-cheek humor… When I was listening to Dachtler, I felt like he was presenting some backstory that the millions who cut their environmental teeth on Turtle Island would love to hear. I sure did." – Bob Yehling – Word Journeys
"Daily life means "Drink your coffee and eat your beans" the zen text says.  Here in Doc's book the quirky lives of farmers, ranchers, miners and new settlers of the Sierra Nevada comes through funny and bare.  What an ear!  And what a calm and compassionate sense of work and love shores up these well-dug poems and stories." – Gary Snyder
---
Doc Dachtler is the author of:
Drawknife – Konocti Press, 1985
Waiting for Chains at Pearl's – Plain View Press, 1990
Skidmarks and Snowgeese – Larkspur Press, 2011
Why Am I Telling You This? – Longhouse Press, 2019
A Little Steam & Star Twinkle – Comstock Bonanza 2020
as well as two music albums:
Too Funky For You – Lost Dog Records, 1987
The Buffalo Freeway – Lost Dog Records, 1988
---
The author of this marvelous collection was born in Elgin, North Dakota, in 1944. He spent his boyhood in Davis, California, a University town where he received his degree in Philosophy. He went from sprawling valley to a remote mountain village to teach rural students in an antique school house.  He became a closet poet while serving on the county's planning commission in a nearby city. He worked as a creative carpenter to restore aging landmarks and build new houses for families and friends in need. In his spare time Doc hunted and pecked anecdotes and poetry on a typewriter, with the result that between 1985 and 2020 five publishers have printed his creations—and had great fun doing so.