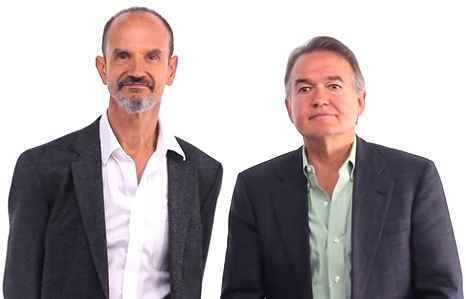 CANCELED – due to unforeseen circumstances
Saturday, May 7, 7:30pm
Nevada Theatre
401 Broad Street, Nevada City, CA
If you have purchased a ticket for this event please contact Paul Emery at paulemerymusic@yahoo.com.
Paul Emery presents bestselling authors John Gray and Arjuna Ardagh in an evening benefiting KVMR and the Nevada Theatre's Bridge Street Project.
John Gray is the leading relationship expert in the world. His relationship and health books have sold over 50 million copies in 50 different languages. His groundbreaking book, Men Are from Mars, Women Are from Venus, is the #1 best-selling relationship book of all time.  John helps men and women better understand and respect their differences in both personal and professional relationships.
Arjuna Ardagh is the founder of Awakening Coaching, a writer and public speaker. He is the author of eight books, including the 2005 #1 national bestseller The Translucent Revolution, and Better than Sex, the complete introduction to Awakening Coaching. He has been a speaker at conferences all over the world, including at Google and the United Nations.
The evening will also include an introduction and welcome from Chris Kyle and presentations by Bill Kauth: Why a Man needs a Men's Group, Warren Farrell: The Boy Crisis, Jed Diamond: Men Alive.
Their new book Conscious Men guides a man to look within and discover his purpose and mission; to be in touch with his feelings but not ruled by his feelings; to live a life that is in pursuit of his path, while honoring the commitments he made during that pursuit. The book is a practical roadmap to support every man to discover and live his unique calling. Conscious Men explores 12 qualities of the New Masculinity. Each chapter offers a vivid portrait of each quality, with insights about how it is influenced by biochemistry. It presents road map for the challenges men face today in living their fullest potential, as well as dozens of suggested practices for how to develop each quality. The book also has a "To Women" section for each chapter: offering women insight about how to recognize a good and trustworthy man, as well as how to support a man to bring the best out of himself.
The New Masculinity is about the exercise of conscious choice. A Conscious Man is not a slave to biology. He is aware of the balance between masculine and feminine energy within himself, but the way that he lives with each is determined by awareness more than by automatic reactions to anything external. A Conscious Man has a sense of the vast variety of different roles he can enjoy in his life. He is aware of our history and how dramatically things have changed in the last decades. He responds to life not only as a duty to fulfill but also as an art to create. This project is about men, but it is not just for men. It also supports women to know how to recognize a Conscious Man, and how to support a man to bring forth his greatest gifts.