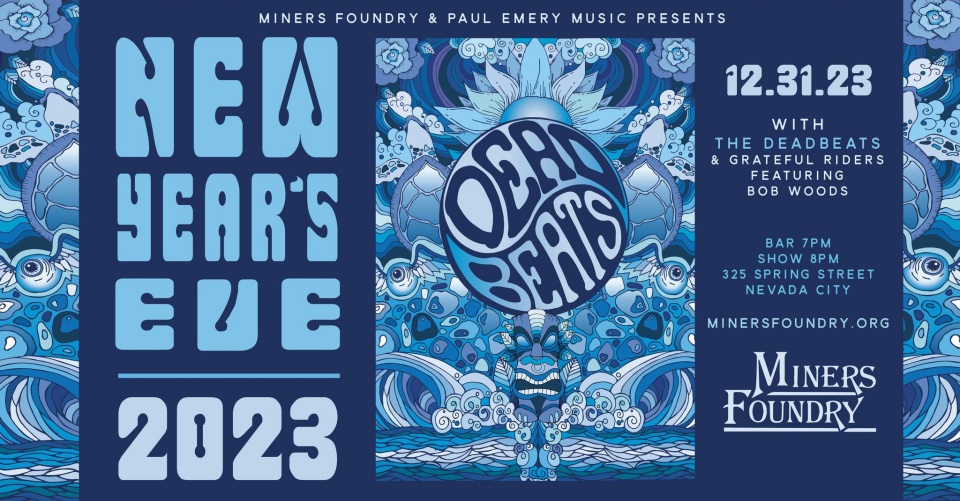 Paul Emery and the Miners Foundry present
General Admission | Standing / Dancing | $30 advance, $35 at the door
Reserved Cabaret Table | 1-4 Patrons | $55
Tickets available online, by phone or in person at the Miners Foundry Box Office:
325 Spring Street, Nevada City, CA 95959
Tuesday – Friday | 9:00am – 4:00pm
(530) 265-5040
Get Tickets!


The Miners Foundry and Paul Emery Music are pleased to present The Deadbeats on Sunday, December 31, 2023. Bar opens at 8:00 p.m. and the Show begins at 9:00 p.m.
The Deadbeats understand that the music of the Dead is best live. The band made their debut at Nevada City's renowned Mad Dogs and Englishmen Pub on Aug. 4, 1994. Over the years, band members have rotated but the core group continues with great shows and big crowds. The current lineup includes Tom Menig, Gary Campus, Eric Menig, Rob Kopp, Glenn Tucker, Peter Wilson and Jenn Knapp.
The Deadbeats play the Dead's songbook with a balance of improvisation and honoring the song.
The Grateful Dead played over 2300 live shows in their thirty-year history with spin-offs – The Other Ones, Dead and Company – still drawing big crowds. The Guinness Book of World Records recognized them with a listing under the heading, "most rock concerts performed." They played to an estimated 25 million people, more than any other band, with audiences of up to 600,000 attending a single show and most of these concerts are preserved in the band's tape vault. August 1 would have been Jerry Garcia's 78th birthday. Rolling Stone said Jerry Garcia was "..the unlikeliest of pop stars and the most reticent of cultural icons."