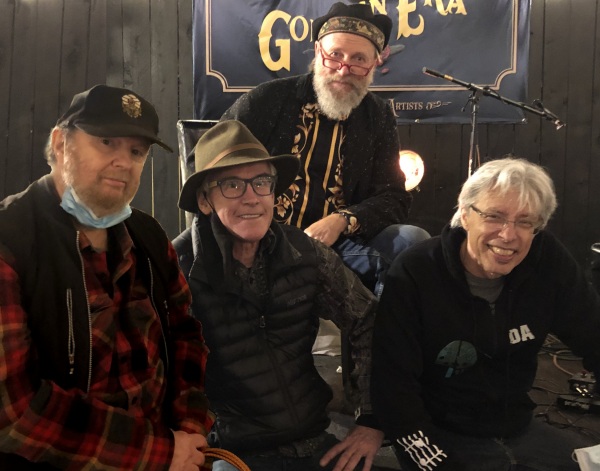 Paul Emery Presents
Nevada Theatre, Nevada City, CA
Wednesday, October 20, 7:00pm
$30 premium reserved seating
$20 general admission


---
We are abiding by Nevada County Public Health requirements for all shows.
Masks are required at all times. Proof of vaccination or negative COVID test taken within 48 hours of the event is required for entry.
---
In the midst of the worldwide pandemic, in every conceivable combination, stringed instrument players Peter Wilson, Joe Craven, John Girton & Darol Anger found themselves together on live-streams and patios.  They will re-assemble at the historic Nevada Theatre in Nevada City, California for their first proper indoor concert on Wednesday, October 20 as part of Paul Emery's Nevada City LIVE! concert series.
Darol Anger is a true fiddle guru, unique in his huge range and depth, who has spent over three decades reinventing American string music to encompass his explorations of bluegrass, jazz, and music from around this world. The groups that he founded or co-founded include the David Grisman Quintet, the Turtle Island String Quartet, Psychograss, Montreux, and the Republic of Strings. His playing and composition overflow with passion, prodigious technique, and a generous sense of humor. He has spent his career enlightening and inspiring his fellow musicians, and vice-versa.  Darol and Joe Craven were charter members of Psycograss on Windham Hill Records.
Joe Craven is not just an entertaining musician with a penchant for the mischievous, he is a teacher and student all at once. He's known for reimagining existing music with reviews such as, "this is either sacrilege or The Second Coming." Whether with corporate heads in Contra Costa, young men in a juvenile detention center, homeless shelter families, a university lecture in wherever, jamming with Gnawa musicians in Morocco, on stage at Carnegie Hall with Stephane Grappelli, on stage with an angel food cake pan in front of thousands of school kids in Scotland… no matter who and what Joe's connected with, he's at home and loving every minute.  Joe and John Girton toured and recorded extensively in the 1990s.
John Girton is well known for his work as lead guitarist with the group Dan Hicks and the Hot Licks. John recorded 3 albums with the group, and also wrote and arranged material for them. He was also featured as guitarist, saxophonist, clarinetist, and occasional mandolinist with the popular vocalist, Maria Muldaur for many years. His own group, the "Girtones" played a blend of jazz, swing and blues sometimes including singer Maria Muldaur as a member.  John and Peter Wilson have performed as a duo since 1988.
Peter Wilson has toured and performed since 1978 in coffeehouses, colleges, trains and nightclubs across the US and Canada. He's a member of the Deadbeats – a long running tip-of-the-hat to the music and songs of the Grateful Dead. He's a founding member of Paul Emery's 1000 Kisses Deep – The Songs of Leonard Cohen. Along with his songwriting cohorts, Mountain John Hilligoss and Moe Dixon, they've written scores of songs, toured and released a studio CD – Troubadour Camp. At home in Grass Valley, California Wilson has hosted radio variety shows and open mic. nights. His production company, Strings Concerts, presents events and provides support services for presenters and festivals on the west coast.
www.peterwilsonworld.com
www.johngirton.com
www.joecraven.com
www.darolanger.com