Fanna Fi Allah
Friday, October 3, 8PM, Tickets $20
Nevada Theatre, 401 Broad Street, Nevada City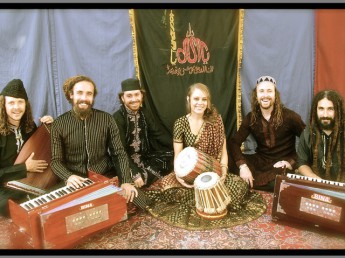 "I was in tears for over 2 hours…the vocal mastery and heartfelt devotion are compelling. More than a "good" time, these young players move me to a greater sense of the mystery within" –Koda Sun (respected elder of the Earthome community)
Qawwali is the most explosive sufi devotion music of the Indian Subcontinent. It is of no surprise that of all world genres it is qawwali that has gained an increasing amount of international appeal.
The Fanna-Fi-Allah Sufi Qawwali Ensemble is a leading representation of this music worldwide. Through their consistent high profile appearances in both Pakistan & abroad they have captured the hearts of thousands. The intensity of their stage performance with its smooth melodic overtures, fierce leaps of vocal passion ridding on heavy rhythmic grooves & rich vocal choruses have captivated audiences in Pakistan, India, North Africa, Thailand, Indonesia, the USA and beyond. 
The aspiration of Fanna-Fi-Allah is to bring the magic of Pakistani Qawwali to the west in it's traditional form, inherited directly from the grand masters. The group has been deeply involved within Pakistan & India, spending plenty of study time with Pakistan's present day Qawwali greats, as well as performing regularly in the important sufi shrines & festivals (since 2001). They have been blessed to play qawwali at the beloved tombs of Data Ganj Baksh (Lahore), Baba Ganj-e-Shakar (Pak Pattan), Baba Bulleh Shah (Kasoor), Baba Lasuri Shah (Faislabad) and in India at the tombs of Khwaje Nizzam-Ud-Deen Aulia, Hazrat Amir Khusrau, Pir Inayat Khan (Delhi), Khwaje Mueen-Ud-Deen Chishty (Ajmer).
ABOUT QAWWALI MUSIC
Qawwali is a passionate devotional practice in which the fire of divine love (ishq) is ecstatically expressed through the mystical verses of Sufi poets, sung in Urdu, Farsi, Hindi and Punjabi. The origins of Qawwali music date back about a thousand years to the first sufi mystics who came to India. Qawwali has evolved into an immense art form spanning over hundreds of years of poets, languages & musical evolutions. Qawwali is associated with the 'sama' – a spiritual gathering of the Chisti Order whose religious context serves to bring members of the order into trance-like states, that makes them more aware of their relationship with God.