Thursday, November 9, 7:30pm
Sunday, November 12, 2:00pm
Nevada Theatre, Nevada City, California
$30 premium reserved seating
$20 general admission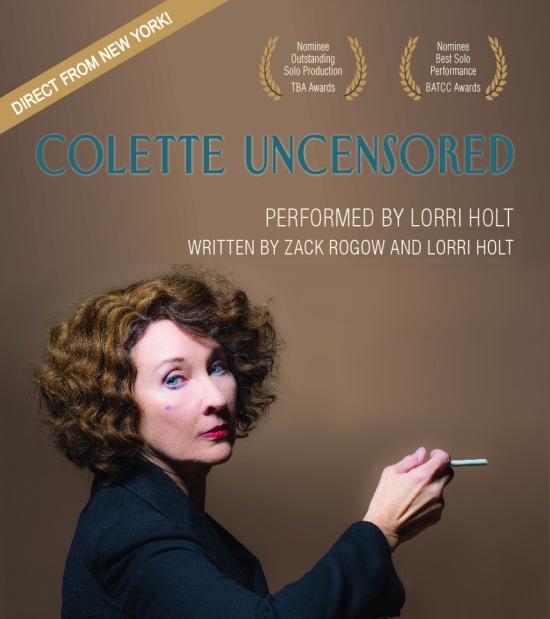 ---
"Lorri Holt is one of those Bay Area actors who, when her name is associated with a production, you automatically want to see it…There's a definite 'ooh la la' factor to Colette's story, and Holt can flirt with and tease an audience like a true Parisian." – San Francisco Chronicle
"Lorri Holt is nothing short of spectacular in this production." – Theatre Eddys
"Watching Lorri Holt speak as Colette is like having a conversation with the most interesting person you have ever met." – Ilana Walder-Biesanz, Stark Insider
---
Colette Uncensored is a one-woman show about the amazing life of the French author Colette (1873–1954). Colette wrote the books that the movies Gigi and Cheri were based on, as well as fifty other works. She blazed trails in many areas, from women's empowerment, to respect for nature, to sexual liberation. The play features actor Lorri Holt playing Colette and eight other characters from the author's life. In the current political climate, audiences resonate deeply with the play's timely themes.
In the winter of 2015–16, Lorri Holt and Zack Rogow conducted a series of readings to launch the publication of Zack's new cotranslation of Shipwrecked on a Traffic Island and Other Previously Untranslated Gems by Colette at bookstores in the San Francisco Bay Area. The response was so enthusiastic that Zack and Lorri decided to approach the Kennedy Center in Washington DC about doing a one-woman show based on the author's life and work during the revival of the musical Gigi. Lorri performed an early version of the show on February 8, 2015, at the Millennium Stage at the Kennedy Center.
Under the direction of solo-show maven David Ford, who has worked with Josh Kornbluth, Geoff Hoyle, Marga Gomez, and countless other performers, Zack and Lorri honed the script. Lorri performed in Colette Uncensored for six months in 2016 and 2017 at The Marsh in San Francisco and Berkeley, receiving standing ovations and excellent reviews. The show was nominated by the Bay Area Theatre Critics Circle for Outstanding Solo Performance, and by Theatre Bay Area for Outstanding Production of a Solo Show.
Later directed by Jayne Wenger with a revised script, Colette Uncensored ran at the Canal Café Theatre in London in May 2018, and at Cerimon House in Portland OR in April 2019, again receiving enthusiastic audience responses. Colette Uncensored was sponsored by an anonymous benefactor for its debut in the Arts Conferences' most sought-after event, APAP, in 2020 in NYC. Lorri is performing Colette at the NorCal Fringe Festival this March, 2020 [ Please note: the Festival was canceled due to the Covid lockdown] and at the new, state-of-the-art Presidio Theater for a "French Weekend" in San Francisco in March 2022.
Lorri Holt (actor, playwright) has been a leading actress in the San Francisco Bay Area for nearly four decades. For ten years she was a principal actress with San Francisco's acclaimed Eureka Theatre, with leading roles in more than two dozen plays, and where she created & originated the role of Harper Pitt in Tony Kushner's Angels in America. She played Masha in the critically praised Vanya & Sonia & Masha & Spike at Berkeley Rep. Other regional credits include Ella in Curse of the Starving Class at the Wilma Theater in Philadelphia, Mat SF Playhouse, and title roles in Additional Regional and International credits include work at Birmingham Rep in England, the Barbican Theatre in London, La Jolla Playhouse, and Actors Theatre of Louisville. She holds a BA in dramatic art from UC Berkeley and an MFA in writing and literature from Bennington College. She has received numerous acting awards, as well as awards and honors for her published short stories. She is at work on a screenplay based on her award-winning short story "Moonwalk", and on a memoir of her work in American theatre.
Zack Rogow (playwright) is the author, editor, or translator of twenty books or plays. His translation and adaptation of the play Marius by Marcel Pagnol was produced by the Storm Theatre in New York and by the Aurora Theatre in Berkeley. His translations from French also include the novel Green Wheat by Colette. He is writing a series of plays that incorporate the works of authors into their life stories. Rogow has received the PEN/Book-of-the-Month Club Translation Award for his cotranslation of André Breton's Earthlight, and the Bay Area Book Reviewers Translation Award for his English version of George Sand's Horace. www.zackrogow.com