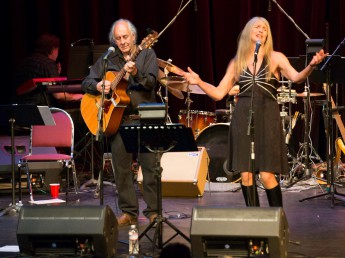 The "Nevada City Live" series marks Emery's 41st anniversary of producing concerts and gatherings that create unforgettable moments for both the performers and attendees. He has organized concerts for legendary artists such as Richie Havens and Johnny Winter along with supported up and coming musicians including MaMuse and Mark Growden and assembled local musicians for special one-night productions such as "A Thousands Kisses Deep the songs of Leonard Cohen" and benefit concerts for local non-profits and community causes.
Emery started producing concerts for his band at the Nevada Theatre in the early 70s. His productions continued throughout the 1980's and included the North Columbia Folk Festival from 1986-1991.  In between organizing and promoting concerts and festivals, Emery toured Europe four times and performed for the Queen of England when she visited Sacramento in 1983.  In 1984 he opened Bennett House Recording Studio in Grass Valley and started a record label bearing the same name. During this time, Emery served as the engineer on two Jonathan Richman's albums, "Jonathan Richman (S/T)" and "Jonathan Richman and Modern Lovers 88", both recorded at Bennett House.
In 1996, Emery took over as Program Director at KVMR Radio and started the News Department.  Emery became Executive Director at the Center for the Arts in 2000 and for eight years handled the booking and artistic direction of the Center.  In 2008 he returned to KVMR and is currently the News Director. He has since produced shows at the Center for the Arts, Miners Foundry Cultural Center and Nevada Theatre.  In 2012, Emery was awarded the prestigious Dr. Leland and Sally Lewis Performing Arts award by the Nevada City Chamber of Commerce for his contribution and support of the performing arts in Nevada County.